We welcome this opportunity to tell you a little bit about our LTL freight company.
All LTL freight carriers are not the same, and we think it is important for you to understand who we are, what we do, and the benefits you can realize by choosing Hotline Freight as your transportation provider. The commitment to you, our customer, is to build a solid long-term relationship by providing exceptional LTL freight services that exceed your expectations.
We offer one or two-day service to direct points in Wisconsin, Minnesota, Iowa, Illinois, Nebraska, South Dakota, Indiana, Michigan, and Ohio.
Hot Line is not just a regional LTL carrier. We also offer Nationwide Volume LTL Direct Shipments to ALL POINTS in the contiguous United States including our Express "Hot Shot" Service, which is a guaranteed service available 24 hours a day, 7 days/week anywhere within the 48 contiguous states.
We operate 14 terminals with 200 employees, 100 late model tractors, and 200 – 53′ air ride logistic trailers.
Our 53-foot air ride vans are fully equipped with Logistics Technology to assure every shipment moves damage-free.
We pride ourselves in maintaining a Satisfactory DOT rating, providing excellent preventative maintenance and driver safety programs.
We welcome your calls for pricing and service. All we ask is that you give us a chance to show you what we can do for you.
Our future depends on the commitments we make to our customers!
Company Brief History and Timeline
October 1988 – Larry Johnson and Rob Burgmeier started Hot-Line Freight System, Inc. with a couple of tractors, trailers, and customers. Larry had the location in Onalaska, Wisconsin, and Rob had the customer, Camcar/Textron in Decorah, Iowa. First-year revenues were $350,000 and 85% came from Camcar.
1988-1993 – New terminals opened in Rockford, Milwaukee, Minneapolis, and Green Bay. At the end of 1993, revenues were approximately 2 million.
1994-2000 – New terminals opened in Dubuque, Des Moines, Mankato, and Elkhart. Revenues in 2000 exceeded 7 million.
2001-2005 – New terminal opened in Wausau. At the end of 2005, Hot-Line out-grew the Onalaska, Wisconsin location, and revenues exceeded 12 million.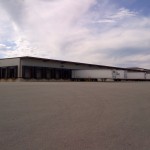 2006 – Built new corporate headquarters 15 miles east of La Crosse, Wisconsin on Interstate 90. Headquarters included a 21,000 square foot warehouse along with 8000 square foot office space. Also built a state-of-the-art shop, and started a repair business which now employs over 30 people. Both buildings sit on over 20 acres with a scale, truck wash, and 12,000-gallon fuel tank.
2010-2012 – New terminals opened in Madison, Wisconsin, Albert Lea, Minnesota, and Kalamazoo, Michigan. Revenues for both companies exceed 25 million for 2011.
2013 – New terminal opened in Sioux Falls, South Dakota.
2014 – New terminal location opened in Byran, Ohio. Hot-Line has over 200 employees/operators nationwide. Hot-Line and affiliates combined 2014 revenues will exceed 35 million.
2019-Broke ground for a new shop addition at our corporate terminal in West Salem, WI.