Hot Line LTL Freight – Caring For Your Freight Since 1988
With 14 terminals, 200 employees, 100 late model tractors, and 200-53' air ride logistic trailers, Hotline Freight is one of the premier LTL freight companies providing excellent service. Hotline Freight provides volume LTL freight direct shipments to all points in the contiguous United States. Hotline Freight LTL service provides 1-2 day service to most points in the mid-west including Denver Colorado. Hotline Freight stands out by exceeding our customer expectations by providing excellent LTL freight service, competitive pricing, and flexibility.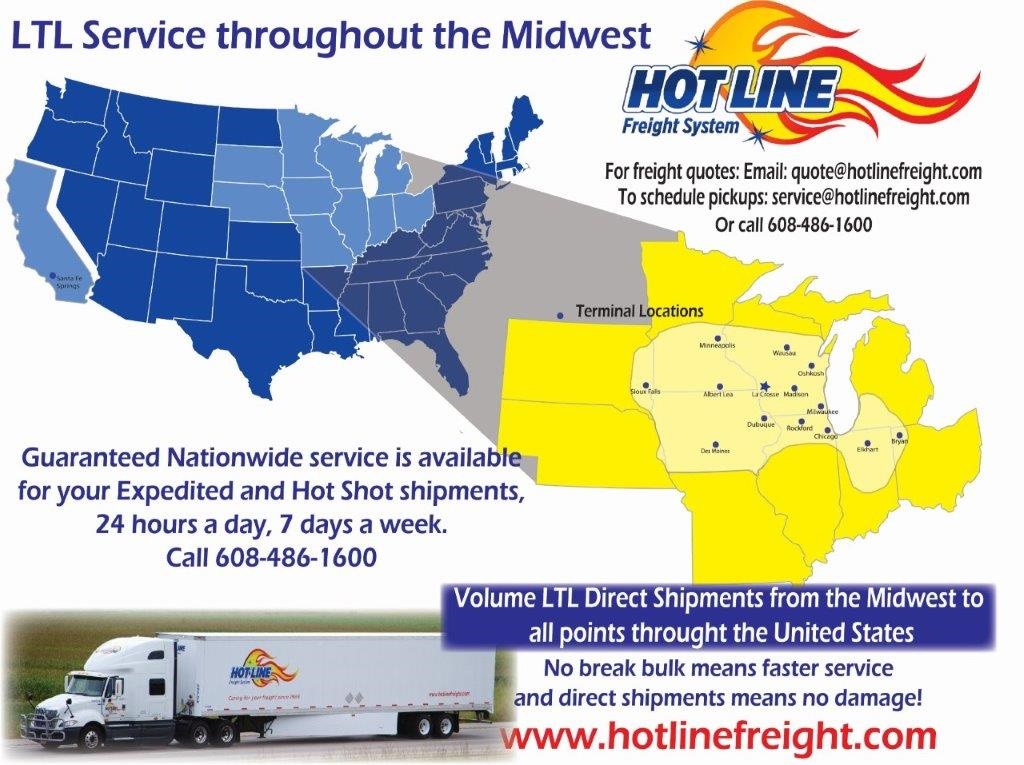 Excellent Service: Outstanding track record as one of the premier LTL freight companies. Our volume LTL freight direct shipments to all points in the contiguous United States equal no break bulks resulting in faster service and direct shipments mean no damage.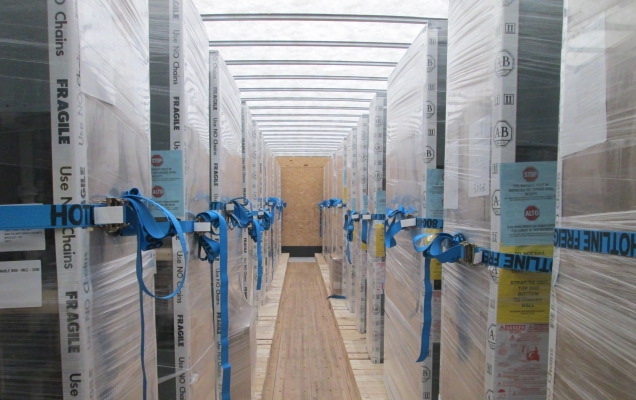 Competitive Pricing & Flexibility: Our brokerage service allows us to meet your pricing needs. Our "Hot Shot" service, for your critical shipments, is a guaranteed service available 24/7 – faster than air freight and up to 50% the cost.
KEY BENEFITS
Discounts do not drop on larger shipments that take up more trailer space
Flexibility in delivery and pick-up schedules
Air ride trailers with logistics
Volume LTL Freight Service Nationwide
5 feet of trailer space or 5,000 pounds
no break bulks
faster service
zero claim tolerance
cost savings
dedicated drivers
late model tractors
53-foot air ride trailers
trailers w/ logistics capabilities
trailers w/ load bars & straps
Hot Shot Service – Guaranteed Service Available 24/7 Within the Contiguous United States
expedited service through the contiguous United States
available 7 days a week and 24 hours a day
team drivers
cheaper than air rates
Why waste time calling transportation companies and warehouses across the country when you want to get your freight moved?
Hot-Line Logistics, LLC is a logistics provider and freight management company, connected to thousands of transportation providers across the United States. We take care of your freight and transportation needs efficiently. Whether you're looking at an expedited freight move, TL or LTL move, or whether you need a flatbed, reefer, or van trailer, we do the leg work and follow through on every shipment.
Your company can benefit from a freight management program that offers:
Competitive freight rates
An extensive network of experienced and qualified drivers
Expert management of a huge carrier network
Accurate and consolidated billing
Customized Reports and Tracking information.
We pride ourselves in maintaining a Satisfactory DOT rating, providing excellent preventative maintenance and driver safety programs. Give us a call for any size shipment! Let us show you why we have been caring for freight since 1988!