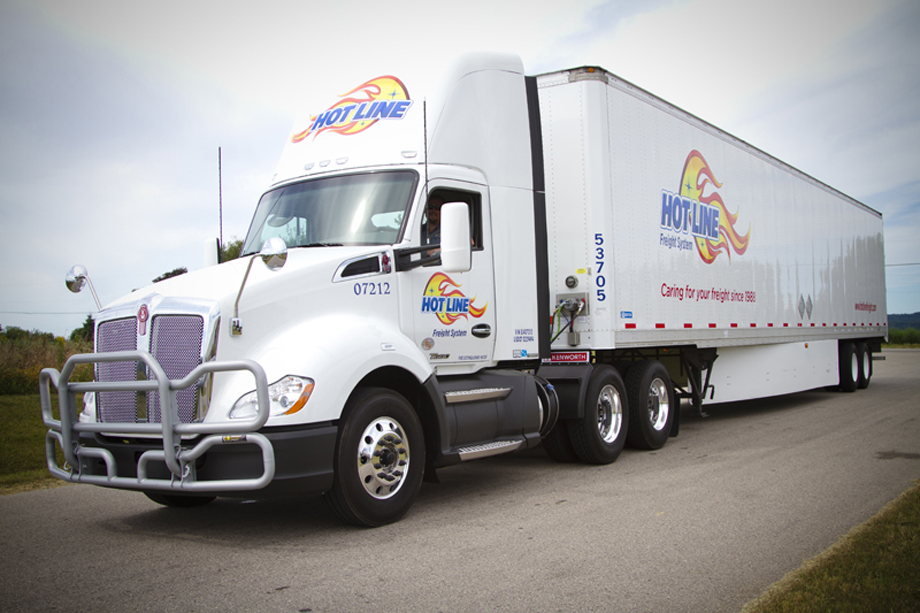 LTL Freight Bloomington Il and Bryan Oh– News Release
Hot Line Freight System, a regional LTL and Nationwide volume trucking company based in West Salem, WI, has announced the opening of their newest terminals in Bryan Oh and Bloomington Il. The addition of Hot Line Freight's terminals will provide expanded shipping opportunities for the Bloomington Il and Bryan Oh and surrounding area, with less-than-truckload in the Midwest, volume service and expedited service nationwide.
Hot Line Freight System is a Midwest regional LTL carrier, providing next day service to South Dakota, Iowa, Illinois, Indiana, Michigan, Ohio, Minnesota and Wisconsin. "Our niche is to pick up from our customer, strap in the freight, and have it never leave the trailer until delivery in California, Texas, Florida, Washington, or any other long haul state" said Rob Burgmeier, president, Hot Line Freight Systems. "The freight that leaves the Midwest and delivers nationwide looks like it did when it left the factory. Also we have Hot-Shot service that is a guaranteed service, available 24 hours a day, 7 days a week."
The two terminals represents Hot Line's 18th and 19th terminal, providing coverage from central IL and northwest OH area to all 48 states. "We felt it was time to have a terminal in Bloomington Il and Bryan Oh to better serve our customers and to expand the area that we cover" said Paul Burgmeier, VP-Operations. The Burgmeier brothers have strong roots in the Midwest. Rob Burgmeier acquired his Commercial Driver's License back in 1975, working for All American Transport in Bettendorf, IA. He eventually moved his family to La Crosse, WI and started Hot Line Freight System in 1988 with partner Larry Johnson.
Not only does the Burgmeier family have strong roots in the Midwest, but in particular Dubuque IA. The Burgmeier brother's grandfather started the Chicago-Dubuque Motor Transportation Company in 1929. Their father Bob Burgmeier and Uncle Jim Burgmeier both work with LTL transportation companies.
Hot Line Freight System was established in 1988 with a handful of employees and first year revenues of $350,000. Today they have over 300 employees/operators nationwide. Hot Line and affiliates combined 2014 revenues will exceed 35 million. To find out more, please visit www.hotlinefreight.com.
https://www.hotlinefreight.com/wp-content/uploads/2023/04/hot_line_freight_ltl_logo.png
0
0
HR HR
https://www.hotlinefreight.com/wp-content/uploads/2023/04/hot_line_freight_ltl_logo.png
HR HR
2014-10-25 19:33:06
2014-10-28 18:25:15
New Terminals in Bryan OH and Bloomington IL